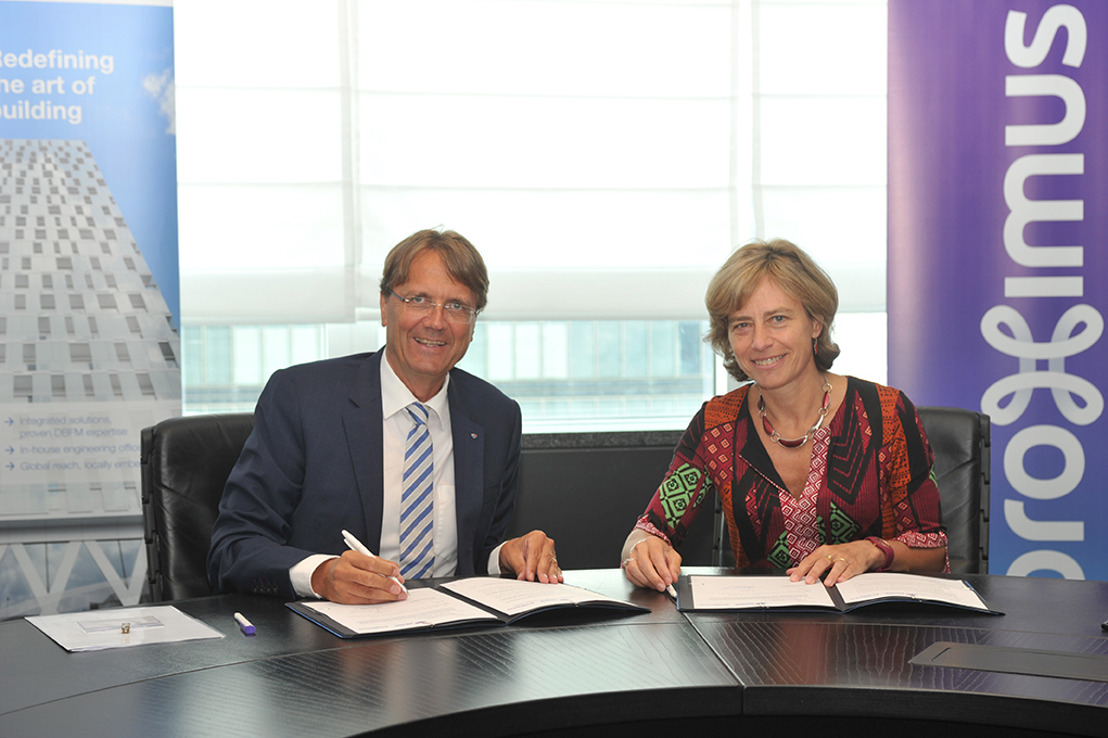 BESIX Group and Proximus announce Smart Buildings partnership
Thursday, July 19, 2018 — BESIX Group, the largest Belgian construction Group and a global construction player with a strong experience in the design and construction of high rise and complex buildings, and Proximus, the Belgian leading telecommunication and ICT company, today announced a strategic partnership. BESIX Group and Proximus will partner to co-create innovative solutions and deliver a superior end-user experience in the area of Smart Buildings.
In the construction business, applying the concept of Smart Buildings translates into applying a layer of innovative solutions on top of existing or new infrastructure or buildings. In this context, Proximus and BESIX want to propose Smart Building solutions in four areas - Hospitality, Working Environment, Building Efficiency & Insights and Safety & Security – while putting the end-user experience at the center of their ambitions.
BESIX Group has the capabilities to manage and oversee complex projects in Buildings & Infrastructure, and has a large and recognized portfolio of clients. Building upon its solid position at the cradle of the construction life cycle, BESIX will enlarge its offer with integrated smart solutions, hence creating true one-stop-shop value.

Proximus developed a remarkable experience in innovative technologies and proposes valuable expertise and applications for Smart Buildings such as Internet of Things (IoT) solutions to improve the comfort of the occupants, visual analytics capabilities and advanced digital workplace services. Proximus is also at the center of a growing eco-system composed of start-ups, established companies and R&D centers and wants to position itself at the beginning of the construction life cycle and integrate the Smart Buildings layer at the earliest possible stage.
As part of the engagement, BESIX Group and Proximus will now join forces along two tracks. On the one hand, teams of both companies will start the actual implementation of solutions for Buildings and Infrastructure through identified projects whereby the first Smart buildings arising from this partnership can be expected before summer 2019. At the same time there will be a strategic co-creation analysis with a set of joint events.
"It is my pleasure to announce that together with Proximus, we are going to combine our respective and mutual assets to deliver advanced Smart Buildings solutions and create value for the end users, and for all Smart Buildings stakeholders" says Rik Vandenberghe, CEO of BESIX Group. "Proximus is known for their strength in smart end-to-end solutions, and the partnership with them offers strong support for the development of smart technologies focused on client centricity. The strategic partnership with Proximus is consistent with our purpose that focuses on creating sustainable solutions for a better world."
Dominique Leroy, CEO Proximus Group: "I'm delighted about the partnership with BESIX Group, where we will join forces to co-develop Smart Buildings solutions to the benefit of our customers. Combining new technologies like IoT and AI into new digital solutions, will allow owners to run their buildings more efficiently and to enhance their comfort level, as from their inception. This strategic partnership is an important step in our ambition for a better Digital Future."
The spirit of this partnership is to operate in an open framework where further collaboration with other partners, like start-ups, is possible to guarantee the best solutions to clients.
About Proximus
Proximus Group is a telecommunication & ICT company operating in the Belgian and international markets, servicing residential, enterprise and public customers. Proximus' ambition is to become a digital service provider, connecting everyone and everything so people live better and work smarter. Through its best-quality integrated fixed and mobile networks, Proximus provides access anywhere and anytime to digital services and easy-to-use solutions, as well as to a broad offering of multimedia content. Proximus transforms technologies like the Internet of Things (IoT), Big Data, Cloud and Security into solutions with positive impact on people and society. With 13,391 employees, all engaged to offer customers a superior experience, the Group realized an underlying Group revenue of EUR 5,778 million end-2017.
Proximus (Euronext Brussels: PROX) is also active in Luxembourg through its affiliates Telindus Luxembourg and Tango and in the Netherlands through Telindus Netherlands. BICS is a leading international communications enabler, one of the key global voice carriers and the leading provider of mobile data services worldwide.
For more information, visit www.proximus.com & www.proximus.be