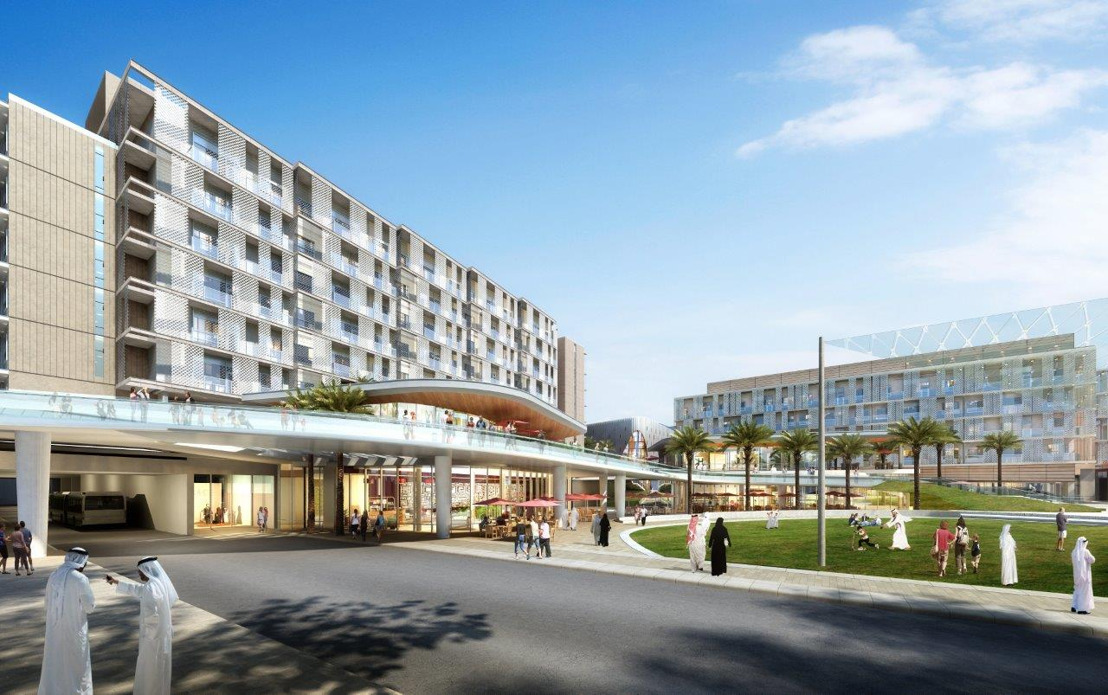 Major new project in Masdar City to be built by Six Construct
Masdar City awards Six Construct with 1.1 million sqft amount of gross floor area to develop in Abu Dhabi's sustainable city
Wednesday, September 20, 2017 — Dubai, UAE, 11 September, 2017: Six Construct, a subsidiary of the BESIX Group, and one of the largest Belgian construction companies operating in the Middle East, has been awarded the contract to design and build a new project in Masdar City, Abu Dhabi's sustainable city, called Masdar Institute Neighbourhood.
The project, of which the buildings have a total surface of 56,200 square meters, is currently in the detail design phase, and will be completed in a period of 30 months. Masdar Institute Neighbourhood is comprised of nine buildings, and will provide residential accommodation for Masdar Institute students, as well as provide corporate residences, and an office building. Retail areas located within the buildings and public spaces, are also part of the scope of works.
"Sustainability of the development has been one of the important aspects in planning the facilities," explained Amin Nalouti, Area Manager for Six Construct.
"Our target is to achieve an Estidama Certification of '3 Pearls' rating and LEED Platinum certification for the buildings. To achieve this, we must comply with a series of design principles and key performance indicators, including architectural and environmental design guidelines."
Key features of the design to help achieve these targets include climatic design to encourage wind movement and provide shaded external spaces to improve outdoor thermal comfort, high-performance building facades, efficient HVAC systems and user controls, as well as the application of building integrated renewable energy.
Installation of efficient water fixtures, as well as greywater recycling for irrigation use, including waste-segregation facilities to enable recycling, and low-embodied carbon material selection will form an integral part of the project.
The central vision for Masdar Institute Neighbourhood is to create a sustainable, compact and walkable neighbourhood. To achieve such a neighbourhood, the plan has been conceived as a series of connected visual and perceptual experiences as one moves through the site. The idea of vistas, visual linkages, landmarks, sense of comfort, active ground floors, ascending through different levels are integrated to create these experiences.
"We believe that Masdar Institute Neighbourhood will definitely be a desirable residential standard for a sustainable and carefully designed community, and this project will certainly provide invaluable guidance to future development projects in the region," concluded Nalouti.
About Six Construct
Six Construct, a subsidiary of the BESIX Group, is the largest Belgian construction company operating in the Middle East. The company combines the efforts of a highly-skilled workforce, along with strategic planning and innovative use of technology to overcome the most complex business challenges. Six Construct is a multi-services company that operates in the construction of commercial and residential buildings, sport and leisure facilities, infrastructure and marine-related projects. The company currently employs a workforce of 12,000 in the Middle East, and a total of 15,000 worldwide.
Having entered the Gulf market in 1965, Six Construct is proud to celebrate its' 51st operating anniversary within the region. Since the company's first contract over five decades ago at the Abu Dhabi Corniche, Six Construct has worked diligently, using its experience and expertise to contribute to the Gulf region's development of various award-winning construction projects.
The company has had the honour of working with a very unique portfolio of projects and clients over the years, including among others, the world's tallest tower - The Burj Khalifa, The Dubai Tram, The Emirates Palace Hotel, Sheikh Zayed Grand Mosque, Ferrari World Theme Park, Cleveland Clinic Abu Dhabi, Four Seasons Hotel in Bahrain, The Khalifa Stadium, as well as Hamad International Airport in Qatar, and King Abdullah Sports City in the Kingdom of Saudi Arabia.
Executing over 20 projects simultaneously in 2016, Six Construct believes integrity, quality, safety, sustainability and timely delivery, are the key factors to its success. Providing a consistent framework of continued excellence, the company remains a leader in the GCC construction industry.
Florence Bribosia Head of Communications , BESIX Group